Home
Novels
Corpus Lupus
Hearts of Tomorrow
Lagrange
The First Book of Lapism
A Left-Handed Sword
Paranormal Dreams
Resisting Arrest
Roar, Vol. 2
Spur
Stick and Bones
Transmutation Now!
Wine Of Battle
No Glory Sought
No Oath Sworn
No Battle Fought
No Victory Won
David Birkenhead
Ship's Boy
Midshipman
Lieutenant
Commander
Captain
Commodore
Admiral
Freedom City
Freedom City
Manifest Destiny
Story Sites
Shifti
A place to read and post stories of transformation
Integral.org
A collection of mailing lists for stories
He doesn't just chase criminals. He hunts them.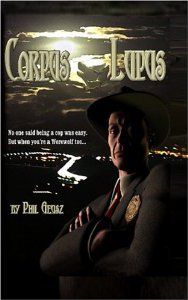 Lt. Larry Highridge was a good Narcotics cop until a routine drug bust went bad. The perp unexpectedly turned out to be a werewolf and Highridge was bitten while making his bust. Now a werewolf himself, Highridge refuses to let his monthly handicap stand in the way of his profession. With the resistance to magic, his condition affords, he's been moved up to Homicide, to handle those 'special' cases involving magic. The ones that can cost a man more than his money or his life. The ones that can cost him his very soul.