Home
Novels
Corpus Lupus
Hearts of Tomorrow
Lagrange
The First Book of Lapism
A Left-Handed Sword
Paranormal Dreams
Resisting Arrest
Roar, Vol. 2
Spur
Stick and Bones
Transmutation Now!
Wine Of Battle
No Glory Sought
No Oath Sworn
No Battle Fought
No Victory Won
David Birkenhead
Ship's Boy
Midshipman
Lieutenant
Commander
Captain
Commodore
Admiral
Freedom City
Freedom City
Manifest Destiny
Story Sites
Shifti
A place to read and post stories of transformation
Integral.org
A collection of mailing lists for stories
Reach For the Stars!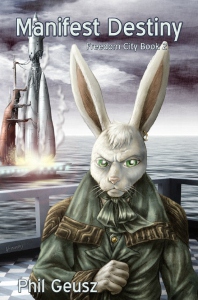 Freedom City is a metropolis founded upon dreams, a place created by men and women who believe that there are limits neither to what forms humanity can take nor to that which it can achieve. Here, it's of little consequence whether a person is a five foot walking rabbit, a beautiful tigress, or a consciousness floating free inside a machine. Consisting of a series of platforms built above the sparkling Caribbean, Freedom City is in many ways an entirely new world dedicated to promoting innovation and freeing the human spirit. Despite its admitted warts the City has become Earth's economic and technological beacon, standing head and shoulders above second-best.

Second-best, however, is less than thrilled at all of this. In fact, they're rather frightened of being left behind. In this final chapter of the Freedom City series, the world is questioning whether or not it can tolerate freedom and success on such an epic scale. So instead of being left in peace to run his bunny-themed casino Harvey Foote finds himself not only dealing with an international crisis… but waging a war for the soul of all Mankind.