Home
Novels
Corpus Lupus
Hearts of Tomorrow
Lagrange
The First Book of Lapism
A Left-Handed Sword
Paranormal Dreams
Resisting Arrest
Roar, Vol. 2
Spur
Stick and Bones
Transmutation Now!
Wine Of Battle
No Glory Sought
No Oath Sworn
No Battle Fought
No Victory Won
David Birkenhead
Ship's Boy
Midshipman
Lieutenant
Commander
Captain
Commodore
Admiral
Freedom City
Freedom City
Manifest Destiny
Story Sites
Shifti
A place to read and post stories of transformation
Integral.org
A collection of mailing lists for stories
Fur Covers Everything, Right?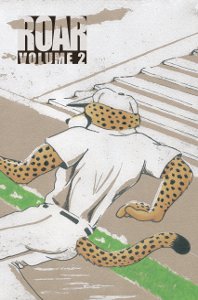 He woke up with a hangover and a tattoo that was remarkable, unremovable, and very very obscene. For "Cheetah", an up-and-coming baseball star, it could mean the end of his career. Getting a radically transformed body turns out to be an excuse for hiding his shame and finding a great marketing gimmick. But it the new look enough to disguise his nasty little soul -- or to bring out something better in him?

Phil's story "Cheetah's Win" appears in this collection, "Hearts of Tomorrow", along with other new works of anthropomorphic fiction.